Right-hander Jake Odorizzi will accept a qualifying offer from the Twins, reports Ken Rosenthal of The Athletic (via Twitter). He'll now be signed for the 2020 season at a rate of $17.8MM.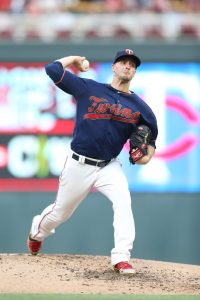 It's a bit of a surprise move but likely a welcome development for a Twins club that previously stood to see 80 percent of its starting rotation hit free agency. Odorizzi, Kyle Gibson, Michael Pineda and Martin Perez (whose $7.5MM club option was bought out) were all slated to hit the open market.
Instead, the 29-year-old Odorizzi will return on a one-year deal at a strong annual rate with an eye toward testing the market in earnest next season when he wont't have a qualifying offer attached to his name. The collective bargaining agreement stipulates that a player can only receive one qualifying offer in his career, so Odorizzi won't cost any teams any draft or international forfeitures when he hits free agency again next winter.
The 2019 season proved to be either a rebound or a breakout for…